The first song I registered a song with SOCAN was on April 15, 1977 – and with any luck none of us will ever have to listen to that song. To date I have 76 songs registered with SOCAN. Many of them are theatre, soundtrack or radio songs. Some are comic satire and some are pieces for dance. Some are just plain old songs I wrote. (find more of Grant's songs here)
Recent composing contracts include:
2021
1. Bee Together Bicycle Radio/Television Jingle for Bee2Gether Bicycles. Find it here.
2. Moo Dreams – Theme song for children's book due to be released in 2022. (Coming Soon!)
3. Klondike Kate Suite – A writing grant from JazzYukon allowed me to focus on a portion of a Ballet that I have been composing. The pieces I composed are part of the full Ballet called "Chahut!" (It's a work in progress)
Pre-2021
"Dogtown: The Musical" is a musical that was released in 2016 and was a the result of a five-year collaboration between Roy Ness (script) and Grant Simpson (music). The show had a run during the Magnetic North Theatre Festival and is due to be launched in 2022 at the Yukon Arts Centre from Sept 6-10th. More about Dogtown here:
Beneath the Yukon Moon: A composition that was released on Sheet Music in 2012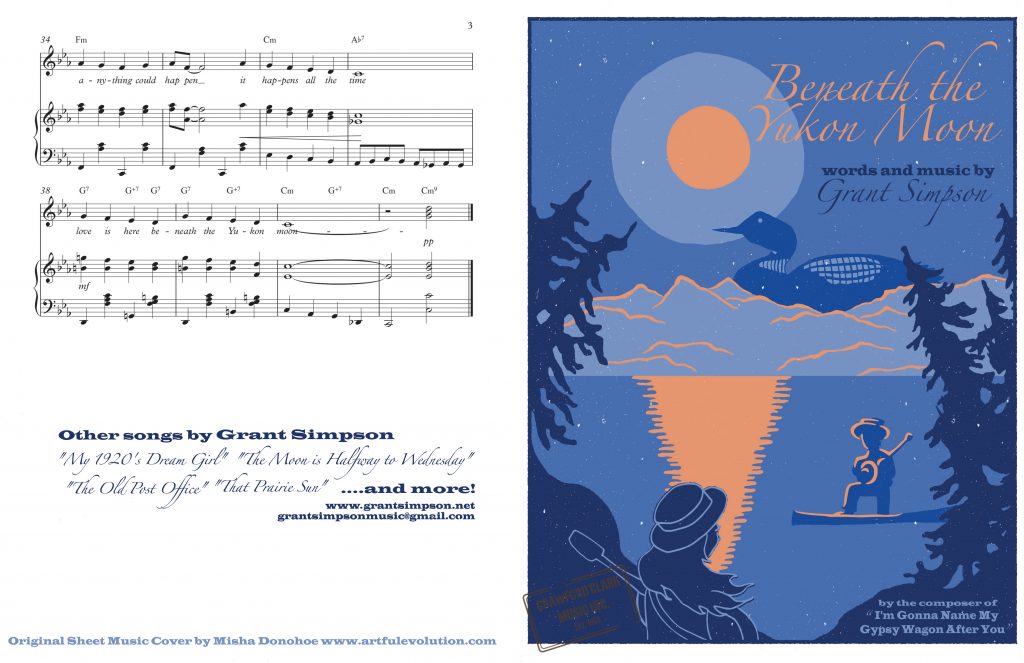 Nicole Edwards performing Beneath the Yukon Moon.
---
Another collaboration I did with Nicole Edwards was Lychee Martini and as you'll see here – this was turning into something pretty spectacular! I love Nicole Edwards.